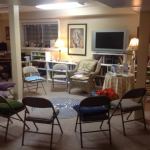 Yvonne's Next Monthly Group Session in the USA
***For one night only, Friday, December 8th, 2017 at 7:00pm*** "FULL"
Yvonne's Monthly Group Session in Ireland
Saturday, November 25th, 2017 at 2:00pm 
Woodlands Health Centre, Newcastle, Co. Dublin, Ireland
You will be amazed at what our loved one's in heaven know about us and what they want to share. They will give evidence of life after death and pass on important messages to you through Yvonne. Every event is unique and the moments are always touching, as there is nothing like making contact. To attend one of Yvonne's Monthly Group Sessions, please click on the PayPal, Buy Now button below. Reservations are suggested to guarantee a place at the event. Thank you for your patronage! **Sadly Synchronicity has closed permanently and the Monthly Group Event will no longer be held there**.
"Yvonne's Special Holiday Monthly Group Session on Friday, December 8th, 2017 in Atlanta is now FULL. The PayPal Button has been removed. I am sorry! Please contact Yvonne directly at yvonne@yvonneobrien.com to be wait listed".